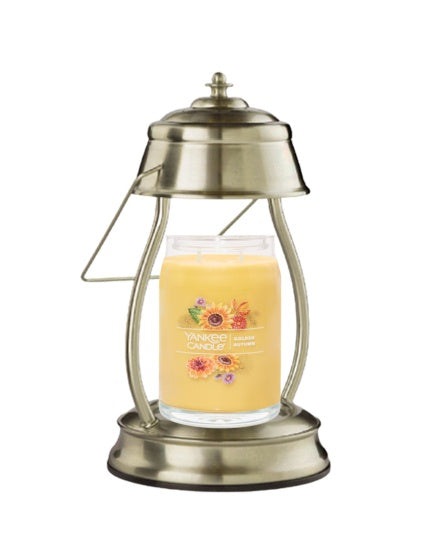 Vintage Brass Hurricane Candle Warmer & Golden Autumn Signature Large Jar Candle
Bring beauty and design home with the Hurricane Candle Warmer Lantern. Simply place a candle in the lantern and the patented lamp creates the ambiance of a burning candle and melts the candle from the top down releasing the candle's fragrance within minutes.
Safe - No flame. Eliminates the dangers of burning candles indoors.
Clean - No smoke or soot. Capture the light and ambiance of a burning candle without smoke and black soot in the air and on the walls or ceiling.
Quick - Long-lasting halogen bulb quickly melts candle to release fragrance.
Made in China
PS: Candle in the picture is NOT included.
Come with two halogen light bulbs.
Hurricane Candle Warmer suitable for Large Jar Candle & Large 2-Wick Tumbler Candle
About This Fragrance
Fill your home with the beautiful blossoms of fall — sunflowers, mums, and dahlias warmed with notes of ginger and vetiver.
Fragrance Notes
Top: Sunflower Seed, Warm Ginger, Sparkling Citrus
Mid: Red Mums, Red Aster, Dahlia
Base: Patchouli, Vetiver, Warm Musk
Top note is the initial impression of the fragrance, middle note is the main body of the scent and base is its final impression.
About Yankee Candle Signature Large Jar Candle
NEW: Experience the Yankee Candle brand, totally reimagined. This beautiful take on our iconic Jar shape is designed to create the best burning experience to date. Two cotton wicks and a premium soy-wax blend provide a clean burn. Hand-illustrated labels and vibrant wax colors are perfectly matched with our Collection-exclusive and tried-and-true fragrances to create an inspired addition to your home. (Weight: 20 oz. Burn Time: 60 to 90 hours)