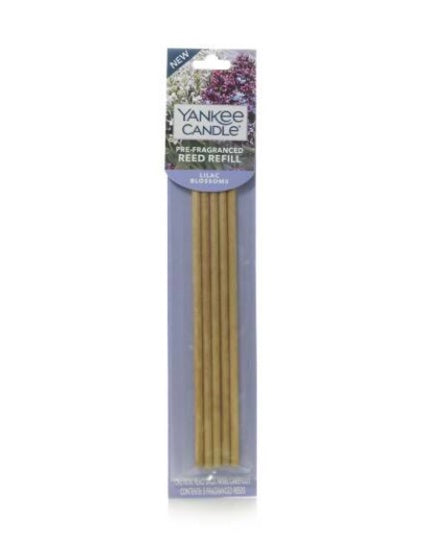 Lilac Blossoms Pre-Fragranced Reed Refills
About This Fragrance
An alluring grove of lavender, white and deep purple lilacs.
Fragrance Notes:
Top: Dewy Greens, Water Lily, Bergamot
Mid: Lilac Petals, Hyacinth, Tulip Bulbs
Base: Cedarleaf, Vetiver, Moss
Top note is the initial impression of the fragrance, middle note is the main body of the scent and base is its final impression.
About Yankee Candle Pre-Fragranced Reed Refills
NEW: Experience powerful, room-filling fragrance in an instant, without the possibility of a mess or spills. With Pre-Fragranced Reeds, there's no oil to add, so there's no clean-up. Set the perfect fragrance level simply by adding or removing the pre-scented reeds in the ceramic diffuser vase (sold separately). Whatever you're up to — entertaining with friends, spending time with loved ones, or enjoying quiet moments alone — you'll enjoy long-lasting, continuous fragrance, up to six weeks per reed. 
The refill pack includes 5 Pre-Fragranced Reeds in a resealable, scent-locking pouch. Designed to be used with the open-sided vases sold separately in Pre-Fragranced Reed Diffuser kits.