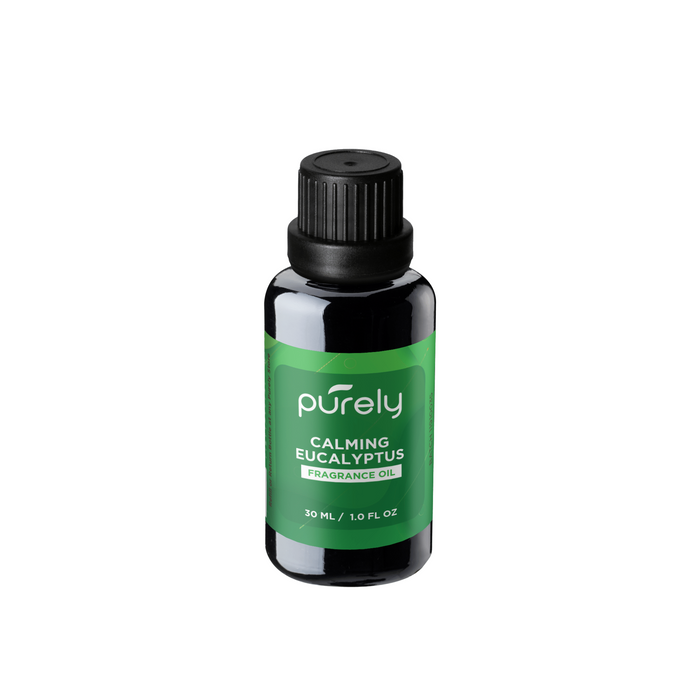 Refillable Calming Eucalyptus Fragrance Oil
Save

Liquid error (snippets/product-badge line 32): Computation results in '-Infinity'

%
Product Information
Take matters into your own hands. Add a few drops of this skin cleansing-safe aroma blend to your fragrance-free Purely Good Oh Shampoo Conditioner, Body Wash or Hand Soap. Comes in handy too when you're making your own scented soap bar and scented candle.
Fragrance Notes
Top: Bergamot, Eucalyptus, Herbal, Leafy Green
Mid: Cyclamen, Floral, Gardenia, Jasmine, Rosewood
Base: Animal, Musk, Tonka
Top note is the initial impression of the fragrance, middle note is the main body of the scent and base is its final impression.
Ingredient
Cineole, 2-(4-tert-Butylbenzyl)propionaldehyde, Citronellol, Coumarin, Linalyl acetate, 1-(1,2,3,4,5,6,7,8-Octahydro-2,3,8,8-tetramethyl-2-naphthyl)ethan-1-one, linalool; 3,7-dimethyl-1,6-octadien-3-ol; dl-linalool, Geraniol, 3-Methyl-4-(2,6,6-trimethyl-2-cyclohexen-1-yl)-3-buten-2-one, (R)-p-mentha-1,8-diene; d-limonene, Neroli, 3-p-Cumenyl-2-methylpropionaldehyde, cis-4-(Isopropyl)cyclohexanemethanol, Pin-2(3)-ene, [3R-(3α,3aβ,6α,7β,8aα)]-Octahydro-6-methoxy-3,6,8,8, tetramethyl-1H-3a,7-methanoazulene, 3-(4-tert-Butylphenyl)propionaldehyde
Weight: 30ml / 1.0 fl oz
Product of Singapore