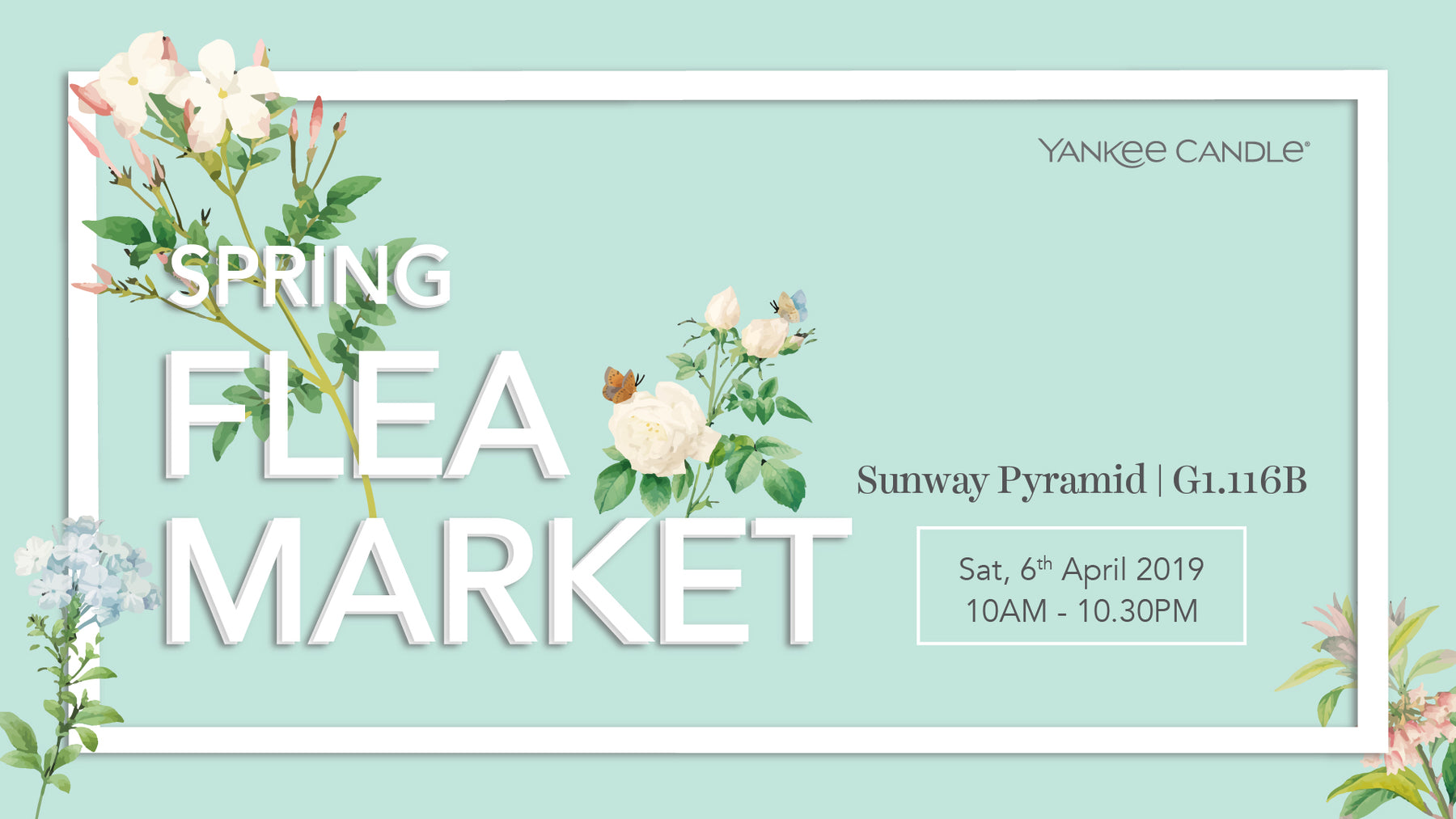 Yankee Candle Malaysia Spring Flea Market 2019

Did you miss coming for our Member's Market?
This time, it's back with a brand new look and name - Yankee Candle Spring Flea Market 2019!
This time, our highly-raved FIRST Flea market of the year will be happening at our Sunway Pyramid Outlet, Lot G1.116B on Sat, 6th Apr 2019.

For those who are unaware of what this event is about, we organize it several times a year to give away FREE items to our eligible customers!* This Spring Flea Market will be the first one for the year 2019 :)


Usually, our collection of FREE gifts includes naturally faded scented candles to decolourized wax candles, wickless candles, scratched candle warmers, chipped candle accessories and candles with no labels. 

However, specially for this year, as we celebrate Yankee Candle's 50th Anniversary, we've got many extra deals just for you and also exclusive products you can get a first-hand preview on! 


First up, featuring the limited edition 50th Anniversary candles which are brand new and they will come in 5 returning favourites fragrances! Come early if you want to take a sneak peek of it, we assure you that you won't be left disappointed.



BUT that's not it! As this candle is not being sold throughout of Asia, anyone who gets their hands on the 2019 Scent of The Year Candle can even call it a collector's item! As there is only 1 of this at the flea market, be sure to come early as the item is going on a first-come-first serve basis!

Other than the FREE items available only for eligible customers*, to commemorate our 50th Anniversary, we will be having exclusive RM150 deals in limited sets happening at the 1-day event for ALL registered customers!

*Customers who have spent RM450 in the past 12 months. To check your eligibility, drop us an FB DM or email.

Now… the moment you have been waiting for…

The FULL LIST of items which will be waiting for you to pick them up on 6th April 2019!

Note: If the images are too small, just right click and open in a new tab to zoom in ;)




Stay updated when you RSVP on our event page!
More FAQs & T&Cs Available:
https://www.facebook.com/events/2051800134918597/

Know someone who is dying to get their hands on this piece of info? Share it with them through the social media buttons below!

Let us know which piece of item you can't wait to get your hands on in the comments box below!

Follow our social media channels regularly and you'll be updated on all our special deals & events!
EMAIL: customercaremy@puresenses.co
FB: Yankee Candle Malaysia
IG: @yankeecandlemy